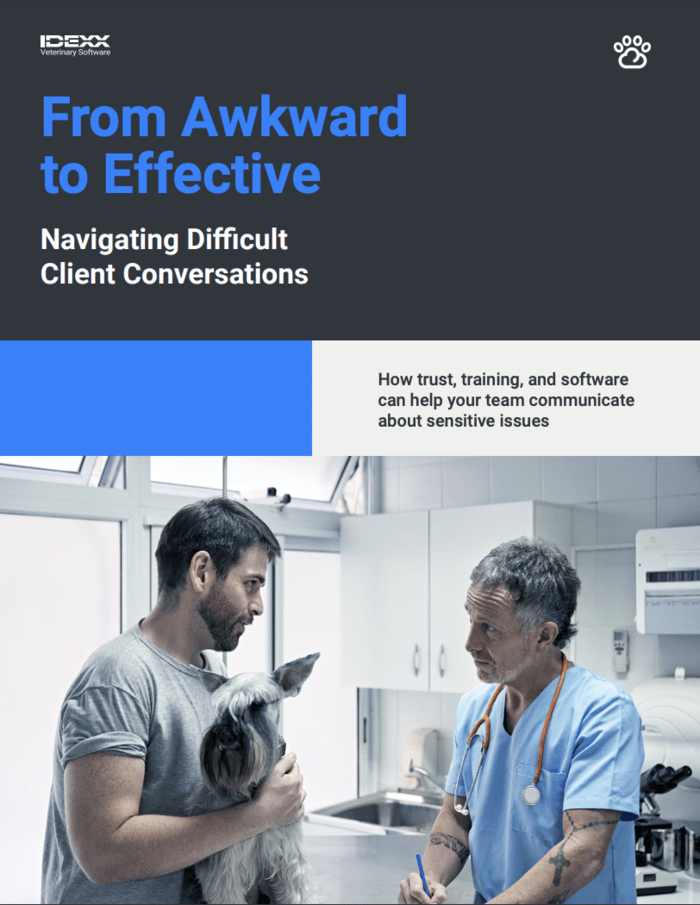 Guide
From Awkward to Effective—Navigating Difficult Client Conversations
Challenging conversations in veterinary medicine are definitely a high-stakes game, but fortunately strategies are available to mitigate the risk and improve the outcomes for everyone involved. In this guide, learn how trust, training, and software can help your team communicate about sensitive issues.
What's Inside? Everything you need to know about taking on tough client conversations.
Challenging conversations are a common part of veterinary medicine—but despite these discussions' frequent and often unpredictable nature, many veterinary professionals feel anything but practiced in the art of managing difficult client conversations.
Unfortunately, mismanaged or unsuccessful conversations can have a far-reaching effect. In addition to impacting patient outcomes, client satisfaction, and practice revenue, over time chronic stress and poor outcomes associated with unsuccessful communications can have a direct affect on veterinary team morale, emotional health, job satisfaction, and workplace culture.
This guide will help by providing practical tips you can institute today to help improve your team's ability to handle these tough conversations with clients.