Our Products
Practice Management Software Solutions
Our time-saving cloud veterinary software simplifies the flow of information across the practice, connecting you to what you need—when you need it.
Innovative solutions for today's veterinary challenges.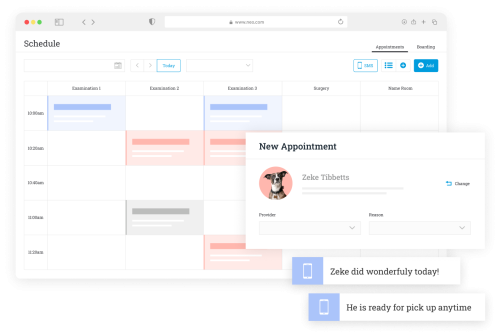 Neo
Brilliantly simple veterinary cloud software that's easy to implement, learn, and use. Save time by completing tasks up to 5X faster.¹
Simplify communications and common day-to-day tasks.
Onboard staff with built-in training and get help when you need it with responsive support.
Deliver care from anywhere—on any device—with the power of the cloud.
ezyVet
Software that does it all: ezyVet helps you save time, grow your business, and deliver excellence in all aspects of veterinary care.
Save time by automating manual processes and reducing administration with intuitive software.
Deliver great customer service and provide your clients with excellence in all aspects of veterinary care.
Get 24/7 email, phone, and ticket support, provided by a knowledgeable team of experts.
What are you looking for from your software?
|   | Neo | ezyVet |
| --- | --- | --- |
| Gets my practice up and running quickly | Yes | No |
| Ensures every staff member can be expert on the software | Yes | No |
| Low start up cost | Yes | No |
| Ability to manage speciality, referral, or emergency practices | No | Yes |
| Enhanced digital workflows with electronic whiteboard | No | Yes |
| Comprehensive and customizable reporting capabilities  | No | Yes |
| Access to on-demand help when I need it | Yes | Yes |
| Diagnostic integration with VetConnect PLUS and IDEXX Web PACS | Yes | Yes |
| Integrates with my favorite third-party apps and software | Yes | Yes |
Elevate your practice with the cloud
Gain more flexibility
View patient information quickly and easily from wherever you are—on any device. 
Enjoy no-brainer maintenance
Have peace of mind knowing your software automatically updates to the latest version and backs up patient data. 
Get time back in your day
Simplify operations with one-click features and integrated contactless payments.
Keep data safe 
Secure important and confidential data with state-of-the-art encryption that's much safer than a server in a closet. 
Resources
Free webinars
Ways to elevate your practice
Discover more unique ways IDEXX veterinary software can help your practice with free on-demand webinars—from boosting team morale and improving client communications to harnessing the power of the cloud.
Software blogs
Knowledge you can use daily.
Deep dives into the practice and tips for how software can help you navigate today's challenges. Read quick articles ranging from training techniques to social media's role in your practice.
Are you a current customer looking for assistance? Get support.
I trust that my data is safe and secure because Neo uses the highest level of security available.
We want our whole hospital to integrate seamlessly, and ezyVet drives that, which allows us to really connect with our people and the pets we serve.