Case Study
Why Was Neo The Right Software For This Three-Doctor Veterinary Practice?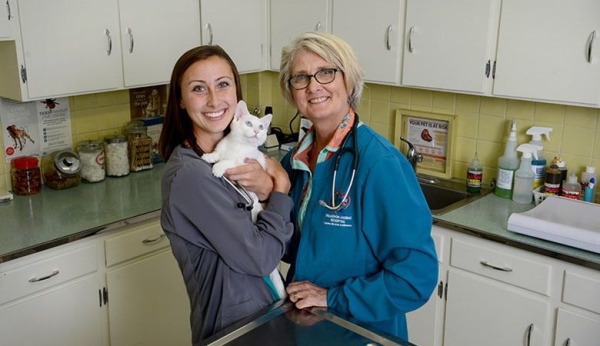 Brandon Animal Hospital is a three-doctor practice that's served pets and people in Roanoke, Virginia since the 1950s. But owner Lisa Wilson, DVM, worried that her server-based practice management software was impacting revenue and client service—and feeding a perception that Brandon was behind the times.
Switching to Neo® Software in 2019 helped Dr. Wilson and her team achieve:
100% automatic diagnostic result download into patient records.
20-30 minutes saved per day due to faster client checkouts.
1 out of every 3 client invoices paid by text, significantly reducing the amount of time staff are tied up on the phone.
0% downtime due to power outages.
Challenge: server-based software complicated care delivery
Dr. Wilson joined Brandon Animal Hospital in 1988 and purchased the practice in 2013. While proud of Brandon's reputation in the community, "we're more than just the nice family practice you've known for years," she said. "We're always trying to offer new services like pet rehabilitation and stay up to date." But Brandon's server-based practice management software was complicating that mission.
Bills for data storage were climbing, and a couple of glitches raised troubling questions about what would happen if the practice lost patient and client data. Upgrades were costly, difficult to install, "and several times we undid them because they messed everything up," Dr. Wilson said. Customer support ate up more dollars yet wasn't very responsive. And the software's auditing capabilities were inadequate, "so we often didn't know who made changes when something was done incorrectly."
"They wanted a big chunk of money to update everything," said Dr. Wilson. That's when her office manager suggested converting to cloud-based software, based on its ability to: •
Keep costs low with a monthly subscription and the ability to use their existing hardware.
Back data up automatically and securely in the cloud.
Upgrade automatically without Wilson or her team lifting a finger.
Be accessed anytime from anywhere, using any internet connected device.
Neo delights with lower costs, uncomplicated design and anywhere/anytime access
Dr. Wilson had recently become an IDEXX Reference Laboratory customer and was impressed by the company's support and responsiveness. Her IDEXX Veterinary Diagnostic Consultant recommended Neo. And Dr. Wilson and her office manager liked what they saw.
Brandon's monthly outlay would shrink thanks to a reasonable monthly subscription that included support, upgrades, and data backup. Unparalleled integration would ensure IDEXX diagnostic results downloaded automatically into the patient record and virtually eliminate missed charges. Neo's audit capabilities could keep track of everyone who logged into the software. And her positive experiences with IDEXX gave Dr. Wilson confidence that the people behind Neo would be there for her and her team.
Brandon converted to Neo in winter of 2019, "and accessing it from home when COVID hit made a huge difference," Dr. Wilson said. "I don't know how we would have gotten through without it." Staff could work safely off site without skipping a beat. And when clients called Dr. Wilson at home, she could access their pets' records in seconds instead of having to drive to the hospital. Dr. Wilson still gets a thrill from checking test results from home. "I'll think 'I wonder what the bloodwork is on that?' And then I'm like "Oh, I can find out right now!"
Whether she's checking it from home or work, Dr. Wilson is also a big fan of Neo's appointment scheduler. "My office manager liked how easy it was to set up, and that we can see everybody scheduled for the day at one time," she said. "The color coding is huge for me. I can immediately see 'that's a vaccine appointment, that's a physical rehabilitation appointment,' or that I've got a whole day of sick coming in. I use my phone to access that all the time."
Pay-by-text and faster checkouts with Neo's built-in credit card processing
Built-in credit card processing is another way Neo's ease of use has paid off for Wilson and her clients. Instead of staff having to complete each client invoice, tap the amount into the payment terminal, then finalize the invoice, Neo sends the invoice amount directly to the payment terminal and automatically records it. "That gives clients a better visit by making us faster," Dr. Wilson said. "And it saves us 20 minutes to half an hour throughout the day." Staff can take payment at any terminal, in exam rooms or the parking lot using Clover wireless devices. Cashing out at the end of the day is much faster too, because there's just one set of numbers to review, and no manual errors to correct.
Besides accepting payments by credit card, ApplePay® or GooglePay®, Brandon began texting clients a link to pay online. Soon up to 30% of all transactions were handled this way. "It's great for medication and boarding pickups," said Dr. Wilson, "or for billing owners who have a balance with us."
Power goes out, Neo stays on
Dr. Wilson had worried what would happen to Neo if the practice lost power. But when it happened, Brandon stayed open by taking payments online and accessing Neo using mobile devices. "Neo saved us," she said. The feeling that Neo looks out for her team is bolstered by the steady stream of automatic upgrades. "Neo is changing so quickly, which I think is great," said Dr. Wilson. "You are definitely anticipating what we need," Dr. Wilson added, noting that on several occasions enhancements arrived that staff had talked about wanting just days before. "I've heard them say 'oh my gosh, we can do this now!'"
Interested to hear how Neo could work for your practice? Book a demo with a friendly Neo expert!